Crochet Clutch Purse Pattern – Blockbuster Clutch
This post may contain affiliate links. This means I may earn a small commission if you make a purchase from these links, at no additional cost to yourself.
Are you looking for an easy to make stylish crochet clutch purse pattern?  The Blockbuster Clutch is an easy to make crochet clutch bag pattern with a familiar shape (if you grew up in the 80's)!  Read on to find out more about the pattern and how to get your copy of the pattern.

Blockbuster Clutch easy crochet purse pattern inspiration
Sometimes, I get what I call flashes of brilliance and the idea for the Blockbuster Clutch easy crochet purse pattern was one of those.  Sometime in summer 2021 the idea for this bag originally came to me.  I know this because when I opened google docs to write up the pattern I already had a half written pattern from my first attempt saved in August.  That version of this easy crochet clutch bag pattern is slightly different, and may yet make it into a finished crochet purse pattern, but between you and me, I like this version better.
Did you ever see the TV show Blockbuster?  I used to watch it religiously as a child.  We had one tv, my mum liked game shows and controlled the remote once we had a telly that had one!  I also liked playing the game, and remember having the board game for a while as a child.  That tv show and the gameboard are the inspiration for this crochet clutch bag pattern.  
Easy crochet clutch bag yarn and materials 
To make my Blockbuster crochet purse pattern I turned to a favourite – Paintbox Simply Aran Cotton.  Admittedly, I am trying to design from my stash and I had this to hand, but I probably would have chosen this if I was making an order anyway.   Written to include multiple sizes of crochet clutch purse, the largest uses only 3 skeins or 150g of yarn TOTAL making this a great option for a stash buster including an odd skein of a random colour!
My original prototype was in Sailor Blue and Paper White.  I have a matching set of the two smallest sizes in Dark Aubergine and Paper White.  I also made a set as a gift in Washed Teal and Black.

Paintbox Cotton Aran is 100% Cotton yarn that comes in 50g, 85m/93yd skeins.  Available in single or multi colour packs from Lovecrafts, there is a wealth of options available if choosing this yarn.
For an alternative yarn, any thicker worsted weight or Aran yarn will work.  I work predominantly with cotton but an acrylic yarn would work as well. Just be aware that with regular use this will pill quickly.  Two options currently on my shelf are Drops xxx which has a little sheen to it which would give potentially a slightly more polished/glamorous finish to your easy crochet clutch bag and Lion Brand 24/7 Cotton.  This is a thinner 4, in my opinion, but is mercerised so will have a more hard wearing finish that is suitable for a high use crochet clutch bag pattern.
To finish off my Blockbuster Clutch Bag I lined it with a fat quarter and added a magnetic snap.  This meant I could hide the ends rather than snip them all (even though I did weave as I went!) and give the bag an additional strength layer.  The snap is totally optional, the shape of the bag means it will stay closed as long as it isn't overfilled.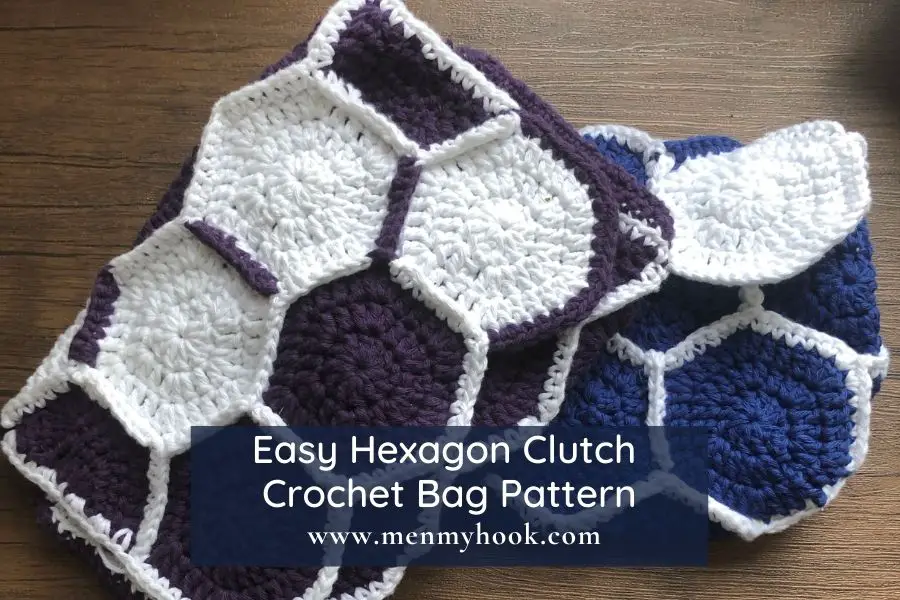 Beginner crochet clutch purse pattern info & tips
This is a beginner crochet pattern – it possibly looks a little more complicated than it is.  Comprised of Hexagons and Half Hexagons you will make all the motifs before joining and so really what you need to do to be successful with this easy crochet clutch purse pattern is decide which two contrasting colours you will use AND which of the 3 sizes you will make and get started.  
To create the blockbuster 'effect' you will need to follow the layout in the pattern schematic and join with your contrasting colour.  It does not have the same visual effect if the two colours used are to close together.  
The assembly of this crochet clutch bag is the most fiddly part and needs concentration, but once you get into it it goes quickly.
Gauge isn't super important, tight close stitch work is as this is an accessory that you will want to use regularly and keep things inside.  This is another reason to add a lining to the inside of your beginner crochet clutch purse, added security for all your things.
My final tip. Weave in your ends as you go, definitely before you start to join your motifs.
Term: US crochet terms
Type: written, includes schematic
Sizes: Small, Medium, Large
Skill level: Beginner, easy
Yarn: 2 – 3 x Paintbox Simply Cotton Aran, 100g in Main Colour, 50 in Contrast Colour, or 150g in the same distribution in any Aran/Worsted or no 4 weight yarn
Hook: 4mm
Other materials: darning needle, stitch markers, scissors,
Optional materials: – fat quarter(s), sewing needle, thread, magnetic snap/closure
Stitches used:
Chain
Magic Ring
Single Crochet
Double Crochet
Slip Stitch
Front Loop Single Crochet
Single Crochet Two Together
Single Crochet Three Together

Blockbuster easy crochet clutch purse pattern collabs
Looking for easy to make patterns with bags of texture?  I am super excited to share the Blockbuster Clutch with you as featured in Happily Hooked Magazines Simply Textured Issue in #103 October 2022.  Including 15 other textured crochet patterns including designs to help you infuse texture into your crochet and life!  To find out more and get your copy of Happily Hooked Magazine hit the button below
Get the BlockBuster Clutch Pattern
Get your Ad FREE Digital Download PDF Copy of the Blockbuster Clutch, including all 3 sizes of the bag from your favourite pattern store below
Love the bag?  Looking for more crochet clutch purse pattern inspiration?  Check out the Marian Bay Clutch, or the Houndstooth Clutch pattern.
I hope you enjoyed the post and look forward to seeing your Blockbuster Clutches!
Don't forget to pop into the Facebook Group and share your wips and fo's – I would love to see them.
Bye for now,
B x