Free cowl pattern – Lemon Peel Cowl
This post may contain affiliate links. This means I may earn a small commission if you make a purchase from these links, at no additional cost to yourself.
Looking for a super simple free cowl pattern?  The Lemon Peel Cowl is a great beginner project that works up quickly with lots of texture.  Read on to find out more about the pattern and how to make yours.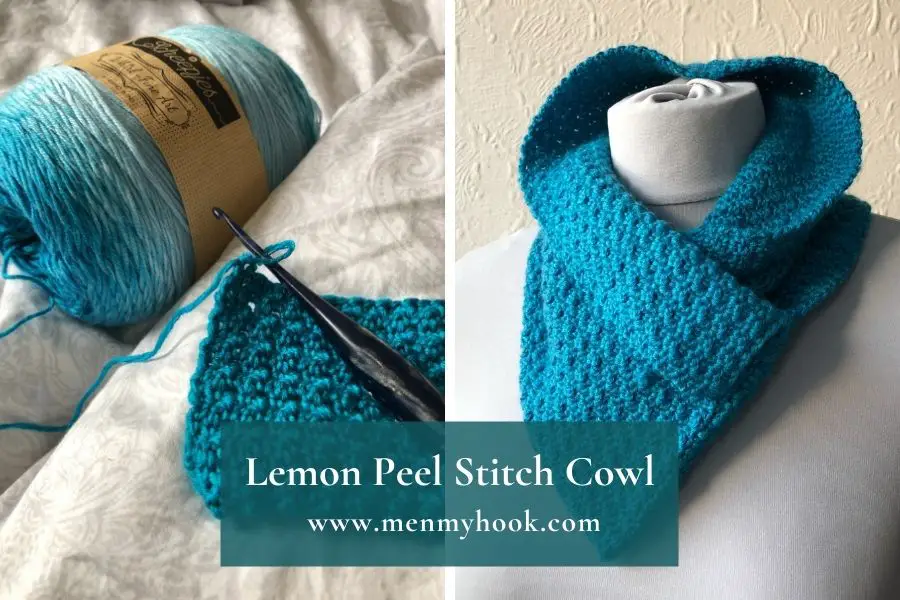 Lemon Peel Cowl inspiration
Cowls and neckwarmers are the perfect winter accessory to me.  I like to layer as I get hot really quickly and sometimes all you need is a cowl or scarf to keep the chill off.  But what to make?  This free cowl pattern is an easy beginner project that works up quickly and is a perfect stash buster and one skein project!
Yarn and Materials – Lemon Peel Cowl
To make my Lemon Peel Cowl I used an old favourite – Scheepjes Merino Soft.  Now admittedly, this isn't the cheapest yarn but I didn't use the whole cake AND its very soft and pretty.  Available in 12 shades, Scheepjes Merino Soft is a 60 Merino/40% Acrylic blend yarn.  Weighing in at 220g, this 450m cake is priced at £29.99.  There are also complementary shades available, as used in the Linen Stitch Scarf.

As I only used 200m of this yarn, there are PLENTY of suitable dk alternatives out there.  Check out Paintbox Yarns Simply DK, Stylecraft Dreamcatcher (you could make 2) or mix and match your stash to create a stripy version.
For alternative cowl ideas using a whole skein of Scheepjes Merino Soft, check out Blooming Cowl, Stella Moebius, and the Stella Infinity Cowl.
Easy lemon peel stitch cowl pattern info & tips
The Lemon Peel cowl is a beginner pattern, using the lemon peel stitch.  This stitch pattern is created from standard crochet stitches and a simple repeat.  Easy to convert, once you are more confident, this pattern works up quickly and would make a great quick gift.
Terms: written in US crochet terms.  
Skill level: beginner
Yarn: Scheepjes Merino Soft in or 150 – 200g of any dk or 3 weight yarn
Hook: 4mm
Stitches used:
Single Crochet
Double Crochet
Lemon Peel Cowl collaboration
We all love christmas gift giving right?  Well Susanna over at Fosbas Designs has put together 12 days of Christmas Gift Ideas Blog Hop and today is my day to be featured, thank you.  Including 40 crochet patterns, you can find out more about the event and grab the discount code for your FREE pdf download of the Lemon Peel Cowl via the button below.

Then hit the button below to grab your free pdf copy before midnight 30th October.

Don't want to wait? You can grab the entire pattern bundle for the event for a steal via the button below.

FREE Lemon Peel Cowl Pattern
Stitches:
Chain – ch
Single Crochet – sc
Double Crochet – dc
Notes: 
To adjust use any starting chain with an odd number
Ch1 does not count as a st
Start:
Ch 41
Row 1:
Sc in the back bump of the second chain from the hook, (sk ch does not count as a st), dc in the next st, [sc in the next st, dc in the next st] repeat across.  Turn (40)
Row 2:
Ch1, sc in the same st, dc in the next st, [sc in the next st, dc in the next st] repeat across.
Row 3 – to end
Repeat row 2 until your work is approx 26inches long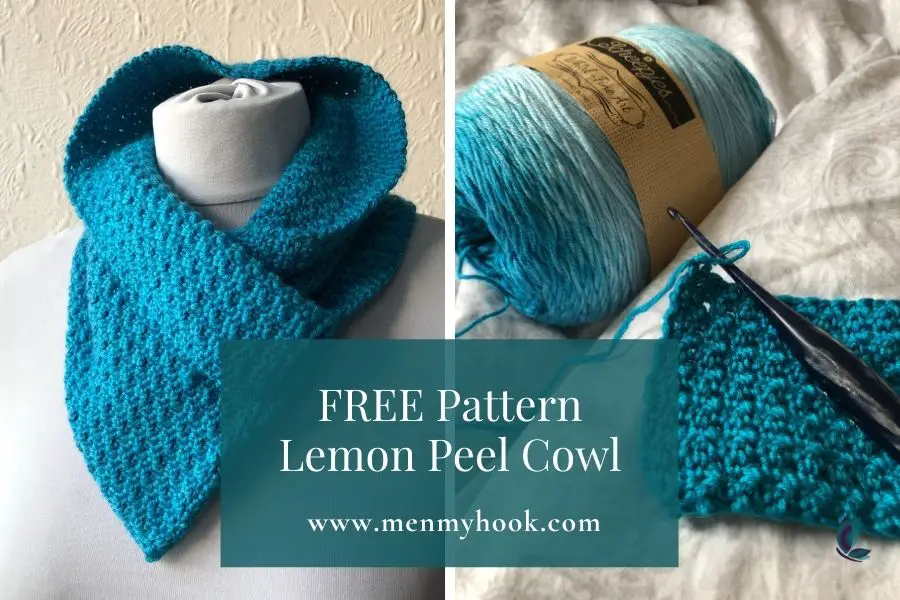 Join 
Lay your work out flat and fold your two short ends towards the middle/centre of the work.  Bring one side on top of the other, until the two corners closest to you are laying together/on top of each other.  
Mark a spot 3 – 4 inches (in both directions) from the corner.
Sew your work together using the whip stitch, or your favourite sewing method.  When you reach the corner point, place 3 sts to keep the slightly rounded appearance.
Tie off and secure your ends.  
To wear – pull over your head and adjust the collar – keep it high on colder days/nights, or fold it down to have a more open look.
I hope you enjoyed the post and look forward to seeing your Lemon Peel Cowls!
Pop into the Facebook Group and let me know what colour you plan to make your wrap in and share your progress.
Bye for now,
B x