This post may contain affiliate links. This means I may earn a small commission if you make a purchase from these links, at no additional cost to yourself.
Introduction 
Are you looking for something to keep your hands warm, or a super quick and stylish gift make? Look no further than these beginner crocheted fingerless gloves – the Marian Bay Mitts. 
I designed these mitts especially for the Winter Fashion Blog Hop 2020 by E'Claire Makery.  After a successful first appearance on the Fall Fashion Blog Hop 2020, I am excited to be included again.  I wanted to create something that was practical, pretty and fun.  I think I've done it, I hope you do too. 

Inspiration
Every day during the blog hop, a free pattern will be available from an amazing group of designers including, Green Fox Farm Designs, Crochets By Trista, Rebekkah Haas Design and more. 
Immediately as I signed up for the Winter Fashion Blog hop I knew that I wanted to create a matching set of items and use part of the set for the event.  Initially, I had planned to use items from the Blooming Series of patterns, including the Blooming Cowl, but I couldn't commit.  I wouldn't submit the patterns once they were ready.  I had an idea for a beginner crocheted fingerless gloves or mittens with a furry cuff, but I didn't have the right yarn at home to try it – 90% of my stash is fingering weight yarn.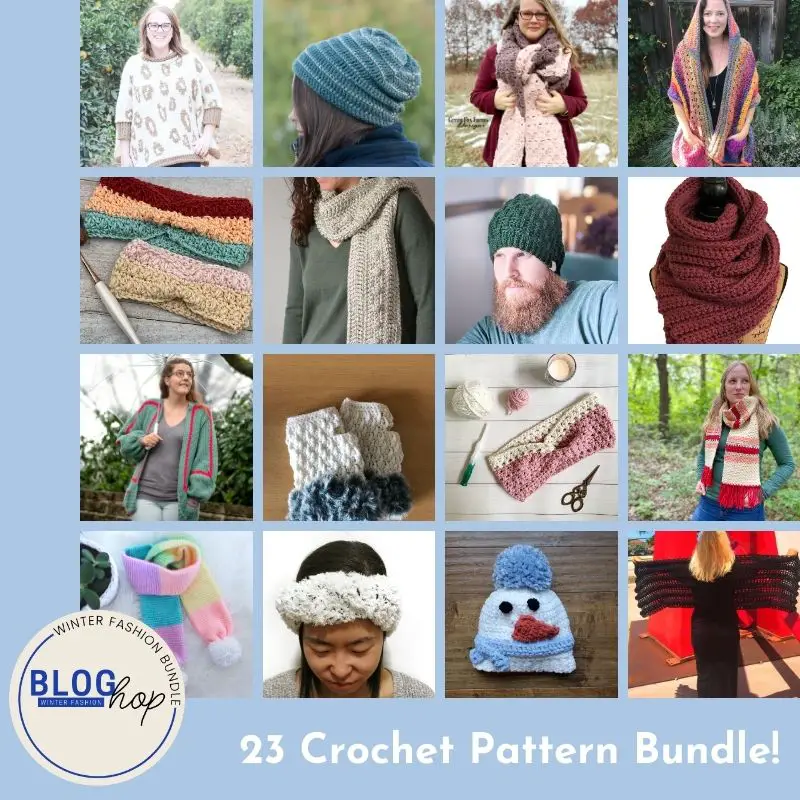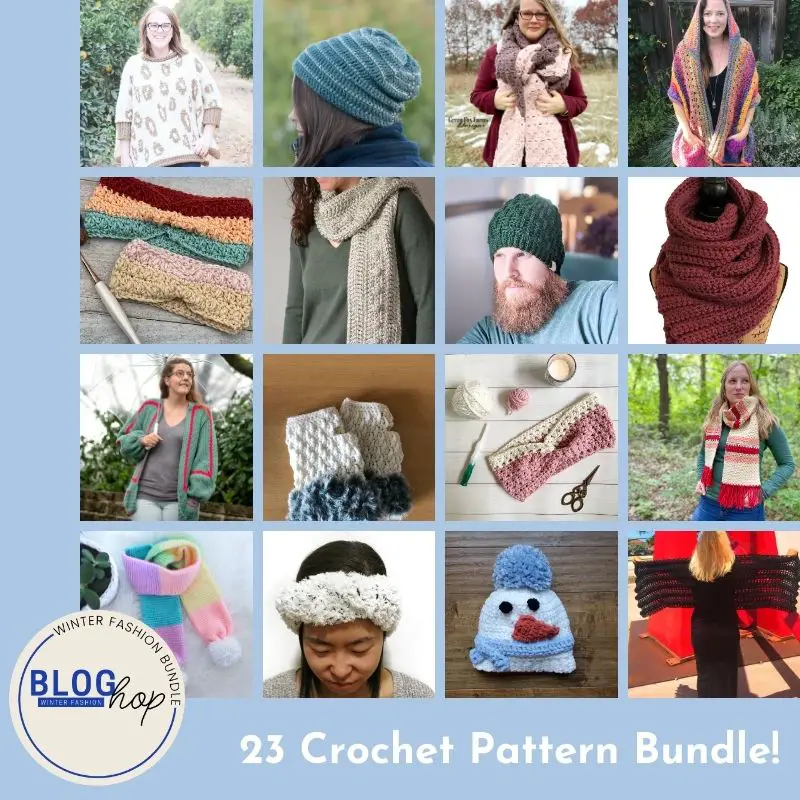 Yarn and Materials 
I managed to snag a Deramores Mystery Box – thank you to my many enablers in crochet groups for sharing the deal.  I decided on a whim to buy some Sidar Alpine Chunky at the same time.  I chose the colour Laurel because it was the one that I thought would most likely match a yarn in the random mystery box and I could use that to review a new yarn.  Best decision ever.  As soon as I put the fur and the Eclipse together, an idea was born.
The Deramores Studio Merino in Eclipse was used to create my first pair of these beginner crocheted fingerless gloves.  After that, I couldn't stop myself and made a pair in the creamy daisy, with a blue cuff.  Finally, the moonstone and mink combination were made to create a matching set with the Marian Bay Cowl.  These are my current favourite pair of these fingerless gloves, however, I do still have fur and a few other colours of the merino in my stash!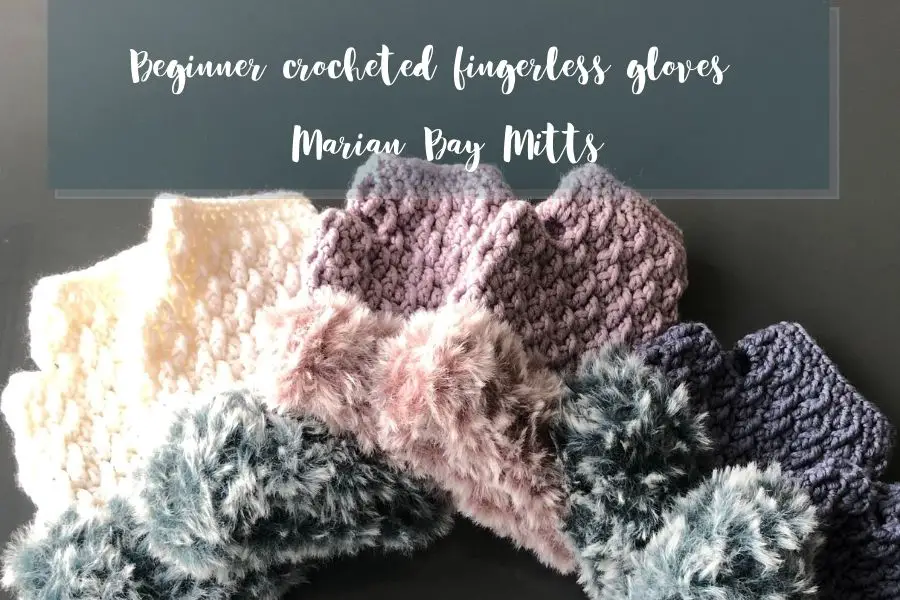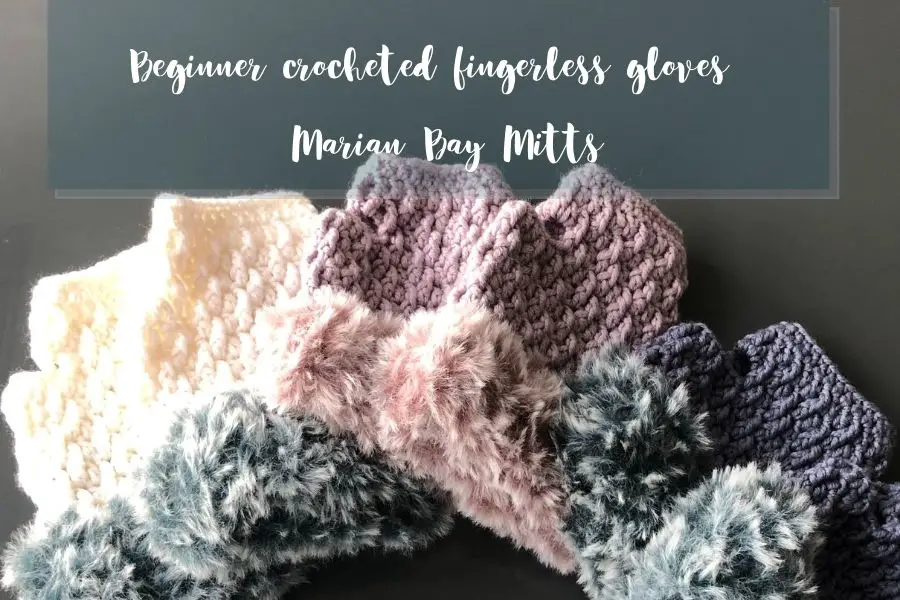 I can't say how much I am loving the Deramores Studio Merino.  My only negatives are the skein size/price, and the limited colour range.  The price, at £4.49 per 50g/113m skein means this isn't stacking the wall in m yarn corner.  I do think it's worth it.  It's 100% merino.   I should say I love merino so am a little biased, but, it's a little cheaper than the Scheepjes Merino soft AND Merino soft is a blend.
Easy crochet gloves pattern info & tips
These beginner crocheted fingerless gloves, are made using 60 – 80gms of dk weight merino yarn and 40yds of faux fur yarn.  Made in one piece in the round, this pattern works up quickly and will look amazing in any colour combination.  The pattern is beginner friendly and easily adapted to suit a larger, or smaller hand.
The combinations I have come up with so far below, using Moonstone, Eclipse and Daisy from the Deramores Studio Merino range.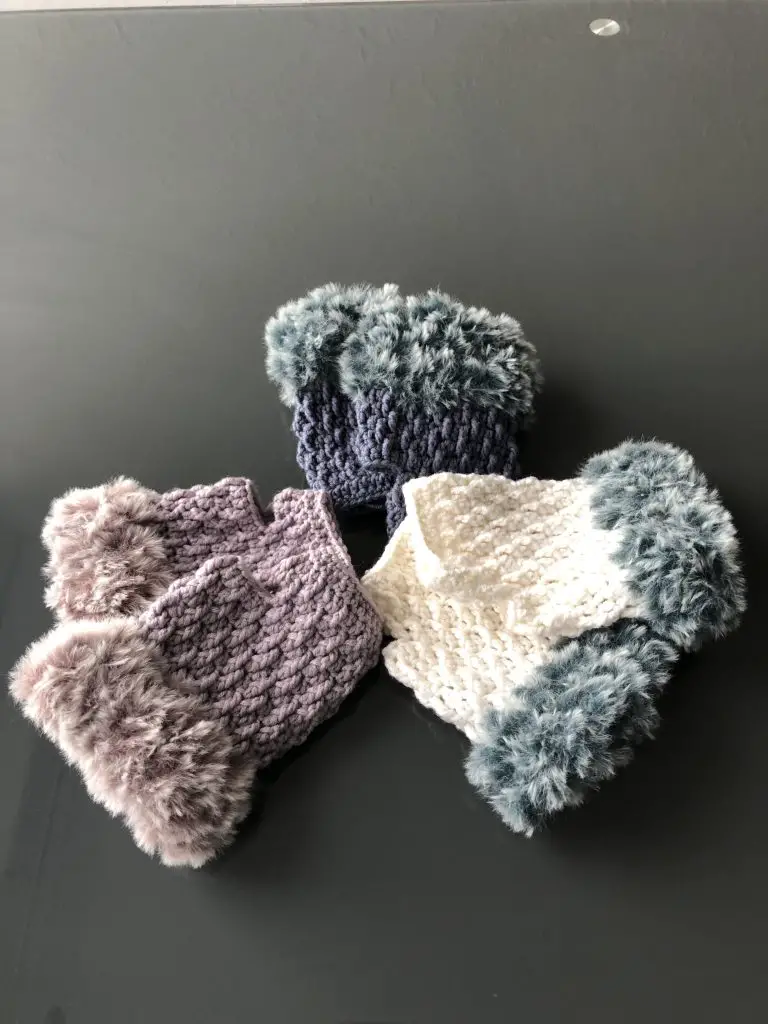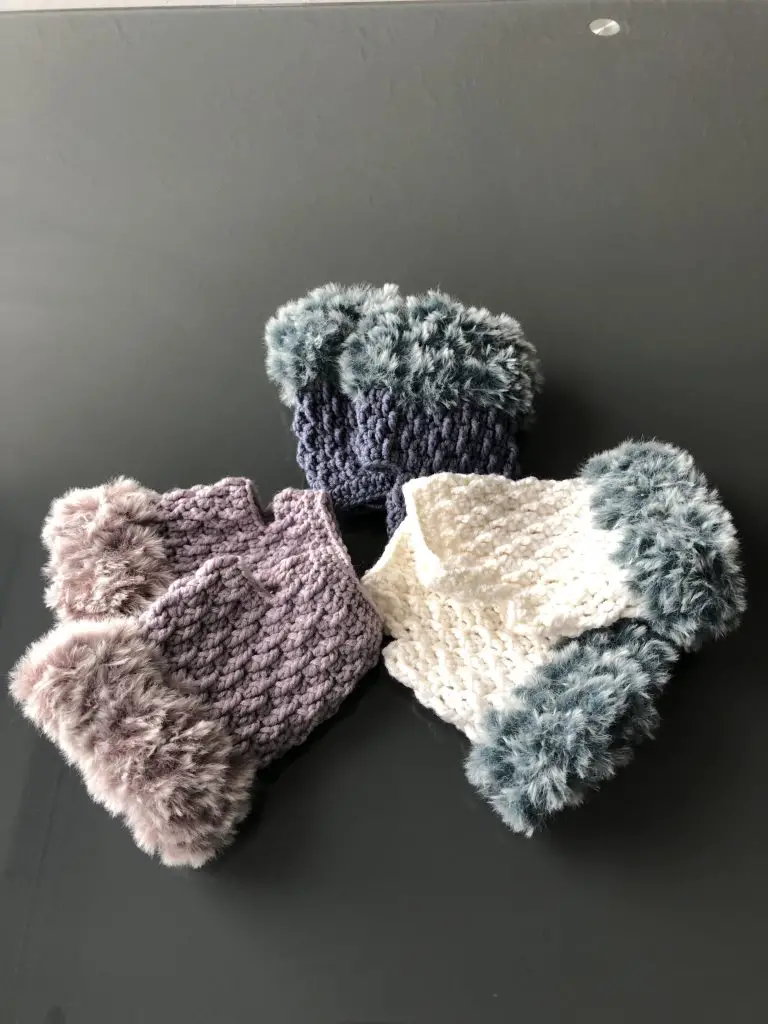 The fibre and composition of this yarn are important to note when beginning your own pair of these beginner crocheted fingerless mitts.  Although this yarn is a dk/3 weight, the natural fibre means that they will be warmer than expected. 
They also have a very stretchy construction making them extremely froggable!  The downside to this is that if you choose to make your own in an alternative fibre then it may not behave in the same way.  
if you find your fabric is particularly loose or has a lot of give, go down half a size in hook or more.  Especially if using the merino.  
your completed glove or mitt should feel a little tight when you first put it onto your hand, but will stretch a little without losing shape BUT will fit fabulously thereafter!
for those who DON'T like fur, there is an alternative cuff included in the pattern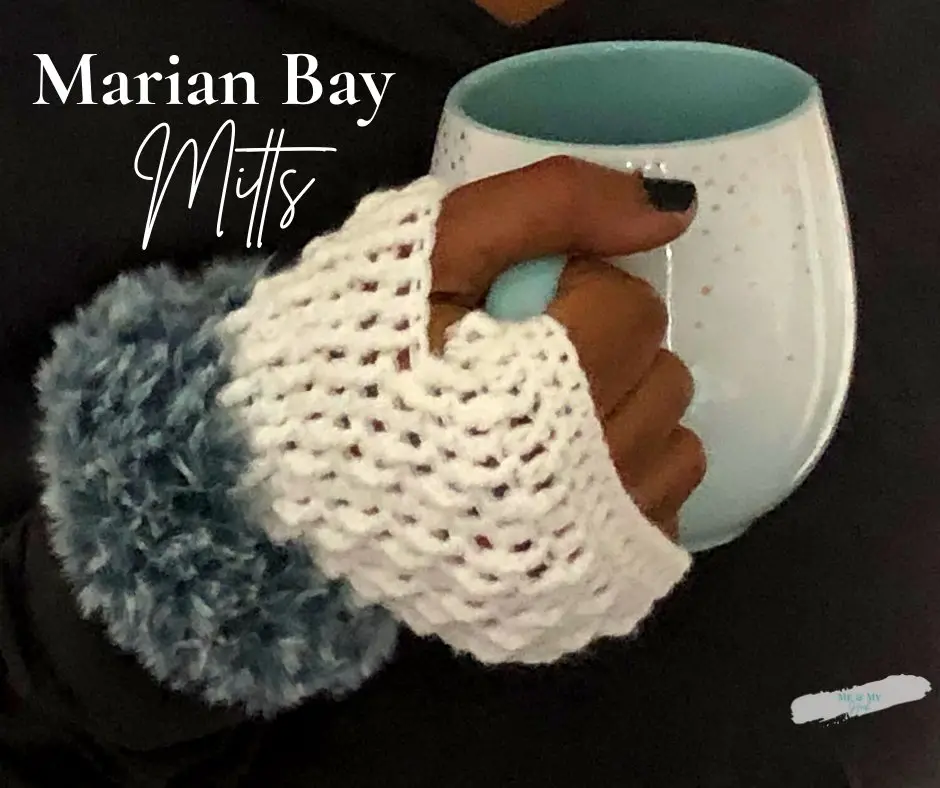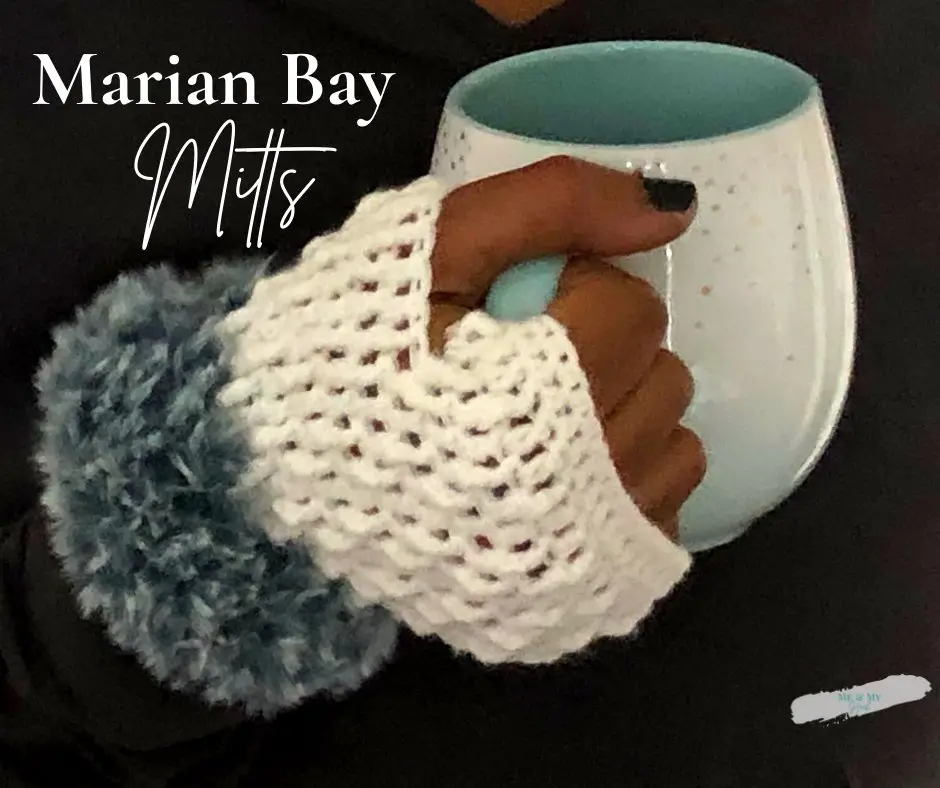 Skill level: Beginner, easy
Terms: US Crochet terms
Yarn: Deramores Studio Merino DK & Sidar Alpine
Hook: 3.75mm & 8mm
Stitches used:
Double Crochet
Front Post Treble Crochet
Back Post Treble Crochet
Marian Bay beginner crochet mitts pattern
Buy your copy of the Marian Bay Mitts pattern here
I hope you enjoyed the post and look forward to seeing your Marian Bay Mitts !
Pop into the Facebook Group and let me know what colour you plan to make your wrap in and share your progress.
Bye for now,
B x