Easy one skein cowl crochet pattern – Glas Tide Cowl
This post may contain affiliate links. This means I may earn a small commission if you make a purchase from these links, at no additional cost to yourself.
Looking for an easy one skein cowl crochet pattern? The Glas Tide Cowl is an easy beginner pattern featuring a simple repeating stitch that works up quickly. Grab it on the go for those early fall nights, or hook one up as a last minute gift! Read on to find out more about the Glas Tide Cowl and how to make yours.
Glas Tide Cowl inspiration
The Glas Tide cowl is a quick make that sort of fell off my hook.  As usual I let the yarn choose what it is going to be and while I thought this was going to be a wrap once I felt this yarn and worked with it a little, I knew it would make a great one skein cowl.  
I chose the Iris stitch for this design because I love quick easy repeating stitch patterns, but also because I wanted something that would be open and pretty enough to show off the yarn but not take over the colour changes.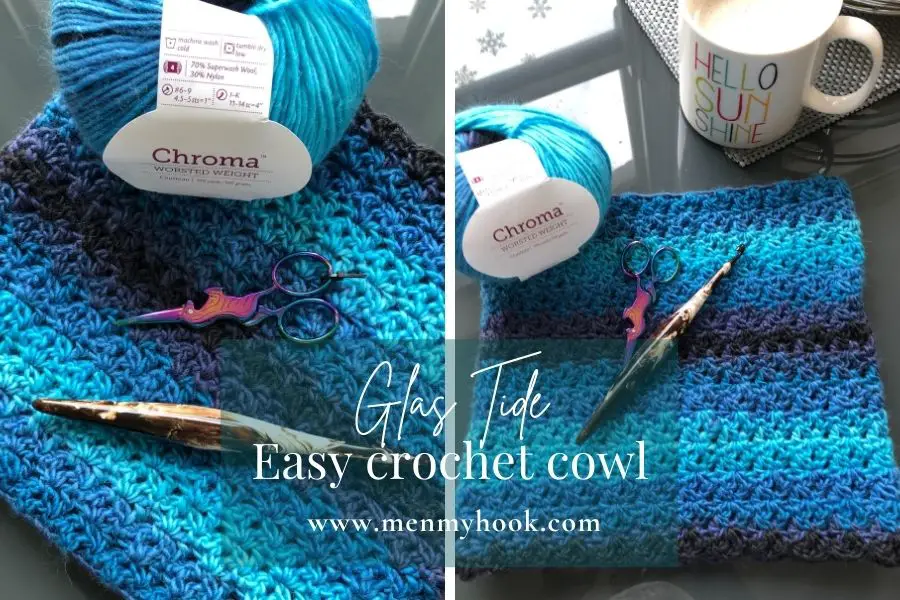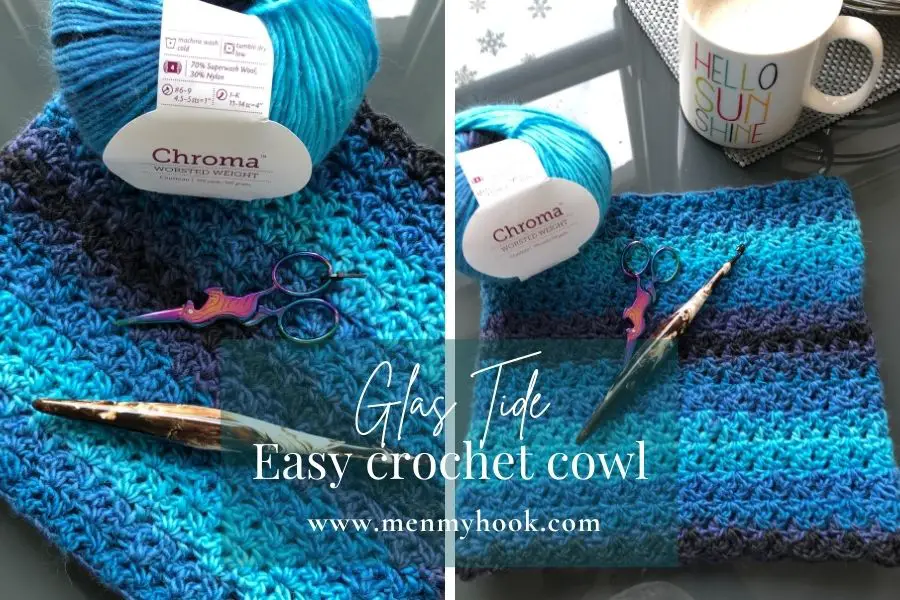 The name of this one skein cowl is a bit of a collaboration.  I find naming designs so difficult and I wanted this one to be simple.  Throwing ideas around with a few friends, Myles suggested that I just call it blue sea.  I went with Glas as this is the Welsh word for Blue.  I also had a flick through my friend Thesaurus and spotted Tide as a synonym of sea probably and went with it.
Glas Tide one skein cowl yarn love
To create my Glas Tide Cowl I used one skein of Chroma Twist Worsted in Cousteau.  This is a Aran/Worsted or 4 weight yarn by We Crochet/Knit Picks.  180m/198yds 70% superwash wool/30% nylon blend, roving style yarn.  It has a gradient colour effect which I love and is a mix of subtle blues.  Soft to touch, and hasn't piled – so far, this yarn is one I would definitely work with again if it was a little easier to get a hold of again.  Priced at $11.99 per 100g ball, I think this a reasonable price for a wool blend yarn, however, the cost of shipping + duty from the US makes this expensive.
Glas Tide Cowl – pattern information
Skill level: Beginner, easy
Terms: US Written
Hook: 6mm – I used my Furls Streamline
Yarn: 1 x Chroma Twist Worsted or 180m/198yds of any Aran/Worsted or 4 weight yarn
Stitches used:
Single Crochet
Double Crochet
Chain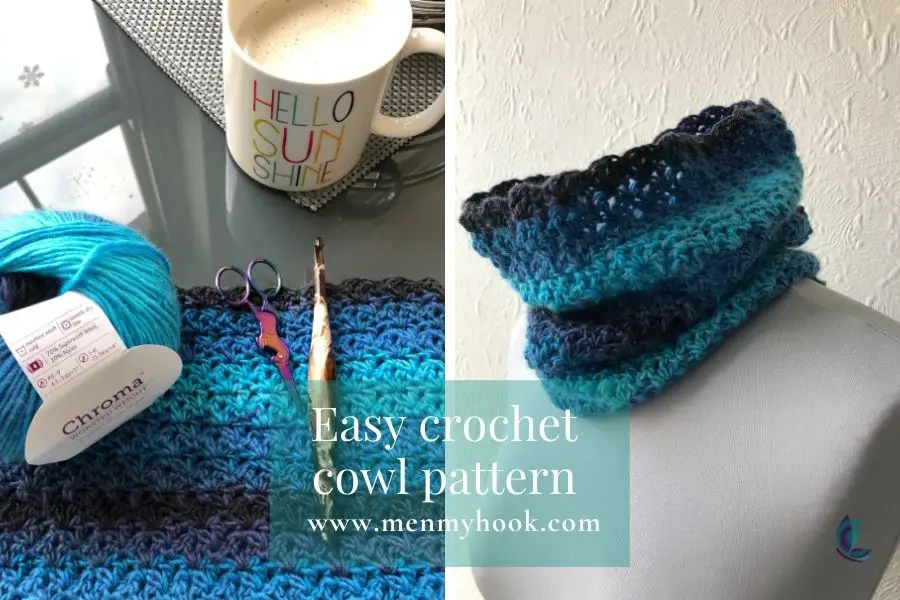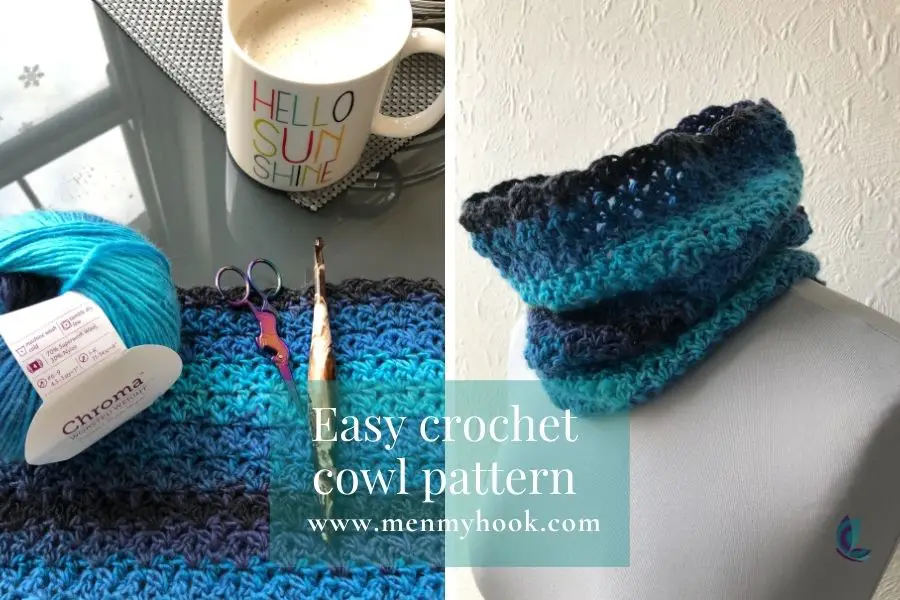 Glas Tide one skein cowl pattern collabs
Today, 7th August, the Glas Tide Cowl is featured in the Fall into Autumn Blog Hop hosted by Itchin' for some Stitchin' and Ned and Mimi and sponsored by WeCrochet who provided us all with yarn – thank you.  Every day in August a new design will be featured and available to download for free for a day.  The theme – Fall into Autumn seemed a perfect opportunity to release the Glas Tide one skein cowl pattern.  It's a great early fall accessory, easy to throw in a bag for when the nights are a little chillier than you expect!
To find out more about the event, including the other featured designs, and how to get your free copy of the Glas Tide Cowl hit the button below before Midday EST 8th August

Then, hit the button below to head over to Ravelry and download your free copy!

I hope you enjoyed the post and look forward to seeing your Glas Tide Cowl!
Love cowls? Check out the Stella Moebius and Marian Bay Cowl
Pop into the Facebook Group and let me know what colour you plan to make your wrap in and share your progress.
Bye for now,
B x