This post may contain affiliate links. This means I may earn a small commission if you make a purchase from these links, at no additional cost to yourself.
Introduction 
The weather is changing, and keeping the chill off my neck is a definite issue.  That is where a cowl like the Fanfare Cowl is a great addition to your wardrobe.
Made with a dk weight yarn cake, the Fanfare Cowl is a quick beginner make that is pretty, functional and small enough to fit into your handbag if the weather changes for the better.  Perfect!
Read on to find out all the details on how to make your own Fanfare cowl today.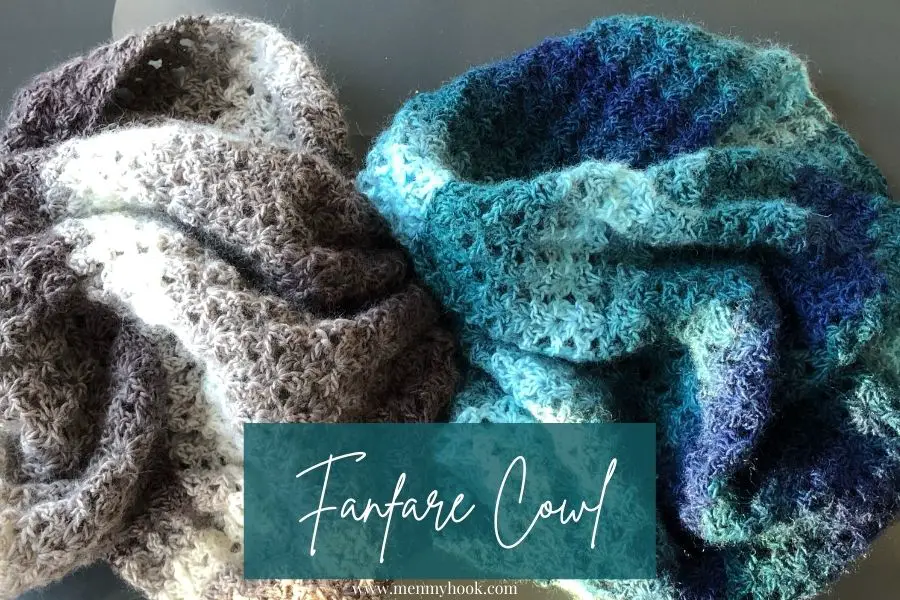 Inspiration
The Fanfare cowl is an easy crochet cowl worked flat and suitable for all levels of crocheter.  I designed this cowl as part of a bit of a design train.  I had a bunch of ideas all at once and an urge to crochet.  When ideas come to me I have to do something about them generally, this was one of those times.
This beginner crochet cowl pattern is made solely from double crochet stitches.  They are grouped into fans and shells and then stacked on top of each other to create the fan effect, and are the inspiration behind the name Fanfare.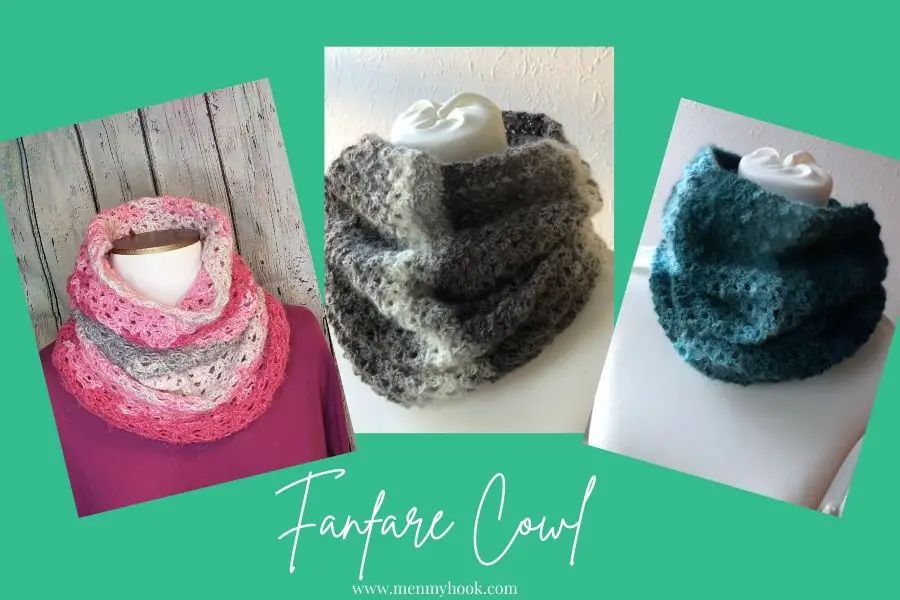 Yarn and Materials 
To design my cowl I used Stylecraft Dreamcatcher yarn and a G or 4mm crochet hook.  This was my first time using this yarn and I like it.  Listed as a dk or 3 weight yarn, it has a fluffy texture and comes in loosely wound strands in a 150g cake.
This yarn doesn't frog especially well.  It can be done, but gently.  I wouldn't advise pulling it back with any haste as the fibres will bind against each other.  It also rips easily.  The finished piece has a soft texture and a slightly fuzzy appearance but as yet it hasn't shed any fibres onto my clothes.

I used Ocean and Blackfoot to create my samples, pictured below.  I also have a third on the hook in Cheyenne as I plan to give these as teacher gifts for my son's christmas gifts.  I love the vibrancy of the colours in these cakes.  The ombre effect is clear and vibrant in each example. 
This yarn I would say is closer to a fingering weight yarn than a dk.  A great value buy, I got these cakes on sale from Woolwarehouse, however, they generally retail for £7.99 per 150g/ 435m cake.  90% acrylic, 10% wool content – I used one whole cake to create each of easy beginner cowls.  I am confident that it 1 would create a fairly lacy scarf, or 2 for a shawl.
Beginner crochet cowl pattern info & tips
Skill level: Intermediate
Terms: US Crochet terms
Yarn: 1 x Stylecraft Dreamcatcher
Hook: 4mm
Stitches used:
Tester Thanks
Many thanks to my testers – Leigh Lees, Sayani Goswami, Debbie Cook & Vinodhini Ramesh for testing, and Kristine from Ambassador Crochet for editing this pattern.  See the image below for their examples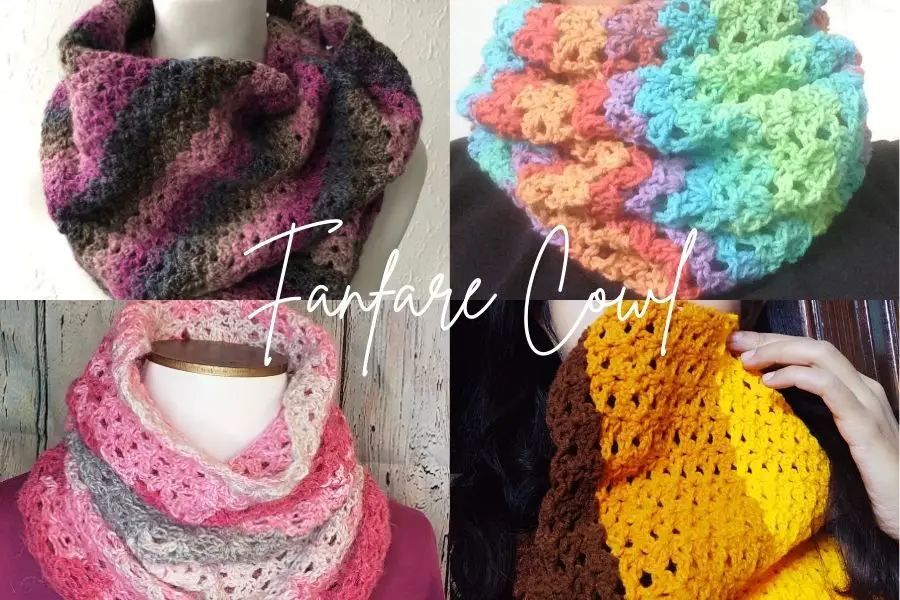 Get the Fanfare Cowl Pattern
Buy your copy of the Fanfare cowl pattern here
Fanfare Cowl easy crochet cowl free pattern
Skill Level: Beginner
Terms:  US Terms
Materials used:
Stylecraft Dreamcatcher, 150g 435m/476yds colour Ocean / 3215
Hook: 4mm
Other items:  
Scissors, darning needle, stitch marker
Gauge: 5 repeats x 10 rows = 4ins
Size: 20in x 24in before joining 

Notes: 
This cowl is worked in one piece and joined with a seam
Ch3 – counts as a dc 
See special stitches for instructions on creating Fan and Shell used in this pattern
Stitches:
Double Crochet – dc
Chain – ch(s)
Skip – sk
Stitch – st(s)
Special Stitches
Fan – (2dc, ch1, 2dc) in the next st 
Open Shell – (dc, ch1, dc, ch1, dc) in the next space

Start:
Ch103
Row 1:
Fan (see special stitches) in the 5th ch from the hook – (ch4 counts as dc and ch1), [sk3, fan in the next st], repeat until 2 sts remain, ch1, sk1, dc in the last st.  Turn 
Row 2:
Ch3 (counts as a dc throughout), [open shell (see special stitches)]* in the ch1 sp of the next fan, repeat across until the last ch1 sp, dc in the top of beg ch3.  Turn

Row 3:
Ch3, sk dc and ch1 sp, fan in the next dc, [(fan in the mid dc of the next open shell)], repeat until the last open shell, dc in the last dc.  Turn
Row 4 – to end:
Repeat rows 2 and 3 until work measures 24ins.  Tie off
Join
Fold the work in half lengthways and using the mattress stitch, join the two short ends of the work.  Tie off and secure your ends.
Fanfare Cowl Collabs – 24 Days of Quickies
Looking for quick or last minute Christmas gift makes? I'm super excited to share that the Fanfare Cowl is featured in the 24 Days of Quickies event hosted by Marly Bird!
Every day there are not 1, no2, but 3 different patterns available – there is something for crocheters and knitters, and they will be available to download for FREE for 24 hours!
Today is the featured day of the Fanfare Cowl. To find out more and et to get your FREE PDF Pattern Digital Download, head overhit the button below and sign up to my email address before Midnight GMT 10th December.

You can also head over to Marly Bird HERE to check out the other designs featured in the event!
I hope you enjoyed the post and look forward to seeing your Fanfare Cowls!
Pop into the Facebook Group and let me know what colour you plan to make your wrap in and share your progress.
Bye for now,
B x