FREE Bandana bib pattern – Charlies Bandana Bib
This post may contain affiliate links. This means I may earn a small commission if you make a purchase from these links, at no additional cost to yourself.
Need a super quick baby shower gift? Are you always stuck on what to make? Check out the Charlie Bandana Bib is a quick easy make bandana bib pattern, all the info on the design, the free pattern and how to get your own copy below!
Guest Designer – Katie Mae Crochet
Today I am super excited to have a new friend and colleague Katie Mae Crochet on the blog. Even more exciting is her super cute pattern – the Charlie Bandana Bib.
This year I think we all know someone who is expecting and are in need of a baby shower gift or two. So with that in mind, all the guest post designs featured this year will be patterns that are especially designed with Mum, baby and nursery in mind.

Charlie Bandana Bib pattern inspiration
Are you always stuck on finding the perfect baby gift? You can never go wrong with something handmade! The Charlie Bandana Bib is my new go-to baby shower gift. With its easy and satisfying texture, quick construction, and adorable appliques, it is sure to be a hit both for mom and baby! We all know baby's drool constantly, so this lightweight cotton bib will catch it all and keep their clothes nice and clean. 
The inspiration for the Charlie Bandana Bib came from my youngest son, who just so happens to share a birthday with a member of the British royal family! I studied in the UK for a summer in college, so have always been a bit of an anglophile by nature. The little British soldier appliques add a classic touch to a modern-style bib! 
Bandana bib pattern – yarn and materials list
300 yards of your favorite 100% cotton yarn (such as "I Love This Cotton")
4mm crochet hook
Tapestry needle
2-6 metal snaps or a ½ inch button
Plus additional red, black, white, and yellow scrap yarns for the applique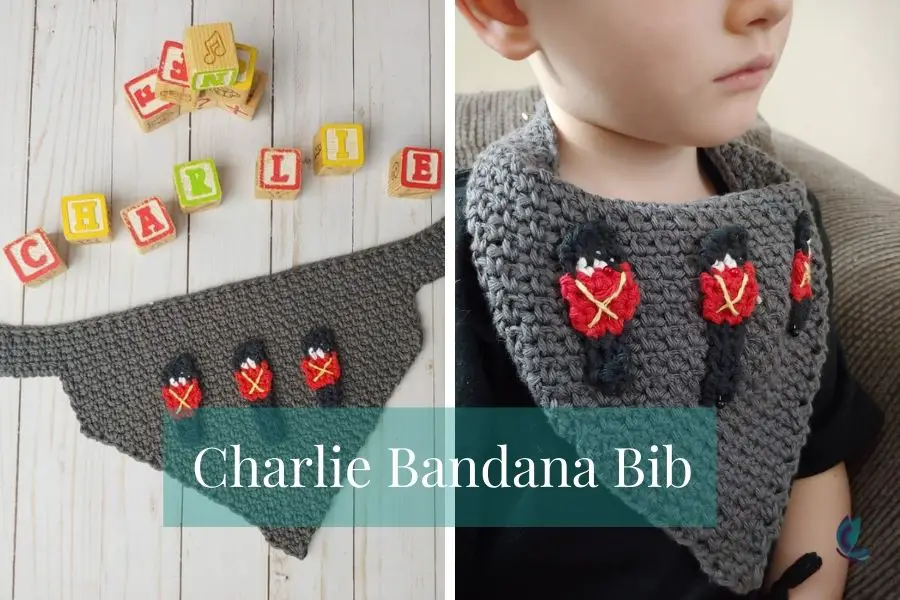 Bandana bib pattern Info and Tips
Increases are always made with a (sc, ch 1, sc) ending each row
The first half of this bib is worked as a corner-2-corner (c2c) linen stitch. The linen stitch alternates a (sc, ch 1) repeat in the ch-1 spaces of the previous row.
For the applique: for a cleaner look when changing colors, YO and before pulling through and completing the stitch on the hook, pull through with the new color to finish the stitch.
Skill Level: Advanced beginner or intermediate, US terminology 
Gauge: Does not matter for this pattern. My finished dimensions were 15.5in W x 8.5in L 
Stitches and Abbreviations
Ch – chain 
Sc – single crochet 
Sc2tog – single crochet two together
Sp – space 
Hdc – half double crochet
Inc – increase
FO – fasten off  
FREE Bandana bib pattern
First! Take a small length of the main bib yarn color (enough to create 12 chs) and set aside for later. 
Row 1: With main bib color, ch 3, sc in 3rd ch from hook
Row 2: Ch 3, and turn. (Sc, ch 1, sc) in sp made by skipped 2 chs from Row 1

Row 3: Ch 3, and turn. (Sc, ch 1) in ch 1-sp from last row's inc. Continue across the row, always (sc, ch 1) in the ch 1-sp. In last st, (sc, ch 1, sc). This is one increase. 
Row 4-28: Repeat Row 3, inc at the end of each row. 
Row 29: Repeat Row 3, sc in last turning ch sp, DO NOT INC! Ch 2, and turn. 

Row 30-38: Repeat Row 29, always sc in last turning ch sp, ch 2 and turn. Do not ch 2 at the end of Row 38 and do not turn.
Row 39: Ch 13, sc in 2nd ch from hook and across ch length until you reach the body of the bib. Continue in the same pattern as before, (sc and ch 1), in the ch 1-sps. Keep your working yarn attached. Join the small skein set aside from before into the corner and ch 12. Pick up working yarn again, and sc in each of the 12 chs. Ch 2, and turn. This ch 2 counts as your first st in the next row.

Row 40: Sk first st, (sc into next st, ch 1, sk next st) across ch, continue working in the (sc, ch 1 in ch 1-sp) across to end. Ch 2 and turn. 
Row 41-44: (Sc, ch 1) in each ch 1-sp across. 
Row 45: Ch 3, (sk first st, hdc in next st, ch 1) across. FO and weave in ends.

British Soldier Applique (make 3): 
Row 1: With black, ch 3, sc in 2nd and 3rd ch from hook
Row 2-3: sc in each st (2). You have now formed the legs. 
Row 4: With red, 2sc in each st (4)
Row 5-7: sc in each (4). You have now formed the body. 
Row 8: With black, sc in first st, pull through white and sc in next 2 sts, pull through black and sc in last st (for a cleaner color transition, pull through new color before pulling through the sc loops)
Row 9: With black, sc in each st (4)
Row 10: sc2tog twice. You have now formed the helmet. 
With yellow, embroider a small "X" on the soldier's chest. FO and weave in ends. TIP: I made the center soldier's legs longer, so added 2-3 rows more for the legs. 
Sew applique onto bib OR add metal snaps to make it removable/changeable! 

Adding snaps or buttons:
If adding snaps, sew snaps to end of bandana bib tabs, making sure the tabs overlap each other slightly.
If adding a button, crochet a small chain loop and attach to end of one tab. Make sure the loop is small enough to snuggly fit around your button. Alternatively, you may be able to push a smaller button through the gap in the ch 1-spaces. 

And there you have it! I hope this quick project was enjoyable to make. Many thanks to Bernadine for allowing me to be a featured designer on her blog. Tag me in your makes – I'd LOVE to see your Charlie Bandana Bibs! 
Buy the Charlie Bandana Bib Pattern
Get your Ad FREE copy of the Charlie Bandana Bib Pattern on Etsy HERE
Get to know Katie Mae Crochet

Katie Mae Crochet is a fourth-generation crocheter in her family, learning crochet from her grandmother. She spent many years as a child creating miles of chains, but eventually the techniques clicked. A few years ago, she began participating in craft markets and realized her joy in making crocheted items for others. Now she has embarked on designing her own patterns, in addition to helping others find that perfect gift for the little ones in their life. Katie Mae Crochet specializes in crocheted items for babies and kids. Working as a historian by day, Katie enjoys creating, designing, family history, tea, and being a mama to two little boys. 
Connect with Katie
Facebook: https://www.facebook.com/Katie-Mae-Crochet-104842177897704
Instagram: https://www.instagram.com/katiemaecrochet/