This post may contain affiliate links. This means I may earn a small commission if you make a purchase from these links, at no additional cost to yourself.
Introduction 
Looking for a snuggly, stylish cowl to bridge the gap from Summer into Autumn?  Meet the Stella crocheted Cowl.  The Stella Cowl, beginner cowl pattern, is a surprise variation on the Estella Series, and designed to participate in E'ClaireMakery Fall Fashion Blog hop 2020.

Inspiration
Luckily, I met Claire through the Crochetpreneur Academy and was able to secure a spot in the event.
Then there was the challenge – what to make?  Fall fashion means so many different things to so many people and it's a little bit daunting.  Adapting the Stella pattern was not my first choice, but once the idea came it took hold.
Initially, I had planned to use Scarfie by Lionbrand, but as soon as it arrived I knew it wasn't the right yarn – too bulky for my tastes even if it would have worked out.  I wanted something a bit more defined.

Beginner cowl pattern yarn love 
Enter Scheepjes Whirl Fine Art.
I LOVE gradient yarns and I succumbed to a late night splurge with my Deramores points recently and I am so glad that I did.
Soft, smooth but with a springy/stretchy quality the Fine Art Whirl is 50% Merino, 25% Micro fibre and 25% Acrylic.  This DK weight yarn is fabulous. 
It has the smooth gradient that whirl users love in a DK cake that is the perfect size for a cowl or scarf.  Priced at £29.99 – its a bit pricier than the regular whirl, although being the same size cake 250g.  My guess is this is because of the fibre content.
Although a thicker yarn, there is still the awesome stitch definition and it is so lovely to work with, I completed this cowl fairly quickly and ordered another as soon as I was finished!
Easy cowl pattern info & tips
I love cowls as a variation on a scarf – snuggly warm and versatile.  I love that you can wear a cowl with or without a hood, with jeans or a dress and the variety of ways in which you can construct or style them. 
The Stella Cowl is worked in joined rounds.  If you are already familiar with the Stella Shawl you will already be comfortable with the stitch pattern and this should literally fly off your hooks.  
Using mainly double crochet and puff stitches, the Stella Cowl is suitable for beginners – yes even those who haven't been crocheting for a while or made their first wearable.

Skill level: Beginner, Easy
Terms: US Crochet terms
Yarn: Scheepjes Whirl Fine Art or 400-450m of any dk weight yarn.  I love gradient cakes and think this would work with most gradient or long striping yarns.   The effect with a pooling or mottled yarn would be interesting and I think a solid colour would be gorgeous.
Hook: 4 & 4.5mm
Stitches used:
Double Crochet
Puff Stitch
Tester Thanks
Thank you to my amazing testers, Leigh, Megan, Beverly and Amanda – to find out more details about the yarns used in their samples please click on the image or their name to access their Ravelry pages.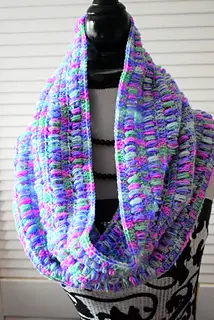 Stella Cowl beginner crochet pattern
Buy your copy of the Stella beginner crochet cowl pattern here
I hope you enjoyed the post and look forward to seeing your Stella Cowls!
Pop into the Facebook Group and let me know what colour you plan to make your wrap in and share your progress.
Bye for now,
B x