Easy Filet Crochet Shawl Pattern – Trinity
This post may contain affiliate links. This means I may earn a small commission if you make a purchase from these links, at no additional cost to yourself.
Looking for an easy filet crochet project?  Trinity is a beginner filet crochet shawl pattern featuring a trio of blocks which inspires its name.  Read on to find out more about the pattern, and how you can make your own Trinity.
Easy Filet Crochet Shawl Pattern Inspiration
Do you like regular patterns?  Trinity is an easy filet crochet shawl pattern featuring a trio of blocks in a regular repeating pattern.  One of the first designs I completed in my book It's a Wrap, Trinity is a slender shawl or wrap pattern named after Carrie-Anne Moss aka Trinity in the Matrix movies.
One of the easier designs to name in the book, with a trio of panels this design is long, slender and easy to adapt. The repeating blocks remind me of tunnels or a maze and while I had designed the shawl before I chose the name, with the alternating trio of panels it seemed an obvious choice. Plus, I love the Matrix movies and Trinity. Confident in her abilities and beliefs, she can hold her own in a fight and she looks epic in the coat and shades.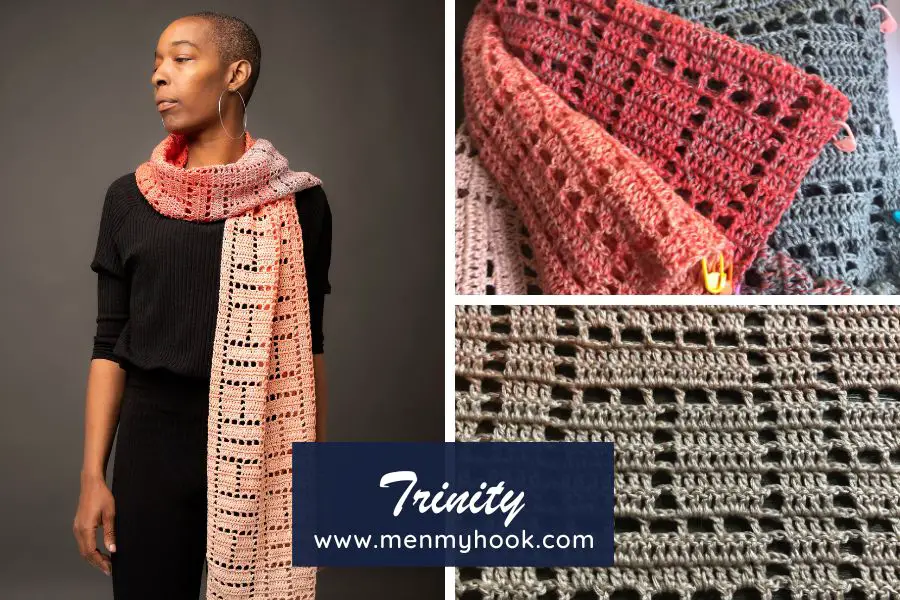 Beginner filet crochet shawl pattern yarn & materials 
Trinity is an easy to adapt pattern and can be made using anything from 800m – 1200m of your favourite yarn.  To make my beginner filet crochet shawl I used 1 x 1000m 4ply Cake, gifted by Crochet UK – thank you, in the colour Painswick with my 4mm hook.  To find out more about the yarn cakes available from Crochet UK, check out the review post here.
The cakes that I use from Crochet UK are un-plied cotton/acrylic blends and are generally available from small businesses with a limited number of brands with a similar structure of yarn available in the UK. For tips on how to work with unplied cakes, and what to do when it goes wrong check out my tip post here.
For branded alternatives that are similar, check out Sultan from Hobbii. You can also tried the more commonly available plied versions Twister or Sultan Deluxe from Hobbii.
Trinity crochet pattern info & tips
Trinity is a beginner filet crochet shawl pattern, with an easy to follow and remember repeat.  Made with a short row, this easy crochet shawl pattern features a trio of panels of alternating repeating blocks.  As a crochet technique, filet crochet can be a little tricky to understand when you are first starting out, so my aim with the Trinity beginner filet crochet shawl pattern was to create something that was easy to understand but also easy to make in pretty much any yarn you choose.
The long slender design lends itself to becoming a scarf, or to be used with a slightly thicker weight of yarn to create a warmer version. The pattern includes instructions on how to adjust the length of the pattern to create anything from a scarf to a longer length wrap.
Skill Level: beginner, easy
Terms: US crochet terms
Type: written pattern and filet crochet chart included in book 
Yarn: I used 1 x 1000m 4ply Cake from Crochet UK in Painswick, (or any colour) or 800m – 1200m of any 2 or fingering weight yarn
Hook: 4mm – or whatever is required to achieve gauge.  
Other materials: stitch markers, darning needle, scissors
Stitches used:
Easy crochet shawl pattern tester thanks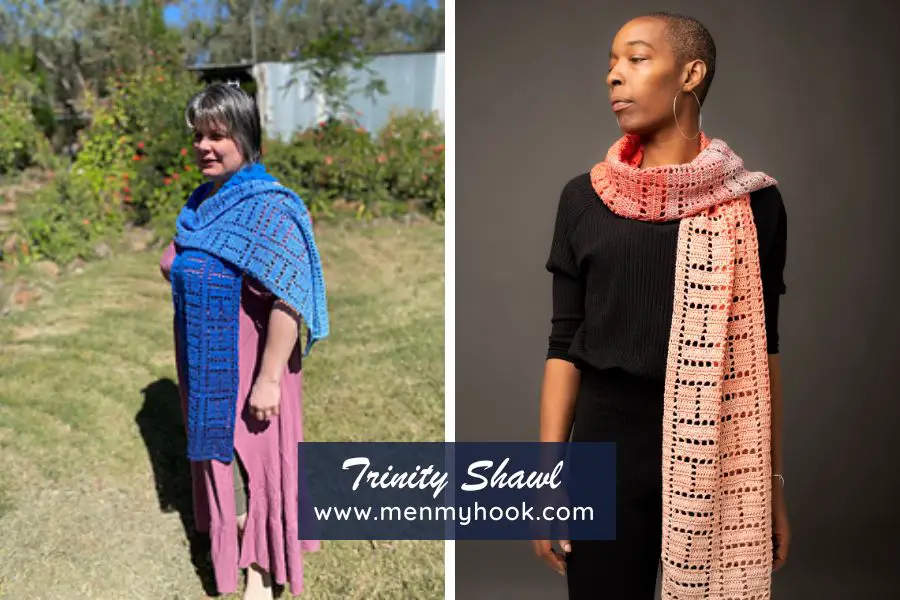 Huge thanks to Carmel, check out her version using Southsea from Crochet UK here.
Get the Trinity Pattern 
Trinity is featured exclusively in my book It's a Wrap.  
To find out more about this beginner modern crochet shawl pattern book, check out the blog post and the designs included here.
To get a copy of the book including 20 modern crochet shawl and wrap patterns hit the button below.
I hope you enjoyed the post and look forward to seeing your Trinity's!
Don't forget to pop into the Facebook Group and let me know what colour you plan to make your wrap in and share your progress, I would love to see your work.
Tag me on social media to share your work @menmyhook with #TrinityWrap #TrinityShawl #menmyhook #ItsAWrapBook
Looking for more filet crochet shawl pattern inspiration?  Check out Reflections
Bye for now,
B x