Easy Crochet Beret Pattern – Seren Beret
This post may contain affiliate links. This means I may earn a small commission if you make a purchase from these links, at no additional cost to yourself.
Looking for an easy crochet beret pattern?  The Seren Beret is an easy to make textured crochet beret pattern for adults.  Read on to find out more about the pattern and how to get your copy
Seren Slouchy Crochet Beret Pattern inspiration
Do you ever just get ideas that won't go away?  That is what happened with the idea for this easy crochet beret pattern.  One day, it popped into my head as a hat that I might be able to wear and it wouldn't go away.  I generally don't make hats as they don't work/fit but as you can see this one did not go away.
Why crochet beret pattern?  Why not?  I remember my mum had one as a kid that she wore all the time until suddenly she didn't anymore.  Also, I've seen a fair few out there in the wild and I like the slouchy look of them as a hat.  I don't have much hair, but my head get's hot so most hat's don't really last long on my head.
Easy crochet beret pattern yarn & materials 
To make my crochet beret pattern I originally planned to make it in the two stranded blue version, however the first completed sample was made in Black Cherry Heather Twill Fingering by Knit Picks.  This is a 100% Superwash Merino 1 weight yarn.  It comes in 50g 183yd donuts and is available in xx colours for xx.  I had received this yarn as part of an event previously and my design didn't come together so I was happy to use it here and make myself another version of this hat.
The final cream/tweedy version which I made is Easy Care Tweed by Mayflower, available from Hobbii.  This is a Merino blend tweed yarn.  You can find out more about this specific yarn in the review post here.
Slouchy beret pattern info & tips
The Seren crochet beret is an easy, beginner crochet pattern.  To make it, I took inspiration from the texture used in the On the Bias Tote and instead of using the full texture, it grows into a raised spiral.  
The design uses a simple textured repeat and grows regularly, until it is cinched to create the band and slouchy effect.  I designed this crochet beret pattern for adults, however, it is easy for most sizes, I just don't have the heads to try them out on!
Terms: US crochet terms.  
Skill level: beginner, easy
Yarn: 2 x Twill Fingering, or 2 x Easy Care Merino or same amount of any 2 weight yarn
Hook: 3.5mm or whatever is required to achieve gauge
Other materials: stitch markers, darning needle, scissors
Stitches used:
Single Crochet
Double Crochet
Front Post Treble
Double Crochet Two Together
Easy Crochet Beret Tester thanks
Huge thanks to Carmel and Becky for helping me with the test for this patten, check out their versions below.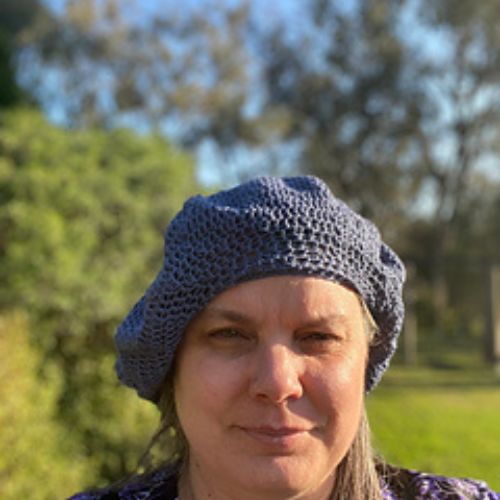 Crochet Beret Pattern Collabs
The seasons are changing and the nights are drawing in, which definitely means it's time for new accessories.  Luckily, Autumn Exclusives is back for it's second year.  Featuring 15, new premium patterns bringing an autumnal vibe to add to your make pile.  Today, 7th October, is my day to be featured and you can get 50% off the Seren Beret pattern as part of the event until Midnight Sunday.
To find out all the details, and get your discount code, head over to the main event via the button below.
Then use the code at your favourite pattern store below
Grab the Entire Autumn Exclusives Bundle
I hope you enjoyed the post and look forward to seeing your Seren Berets!
Looking for more headwear inspiration?  Check out the Blooming Headband
Pop into the Facebook Group and let me know what colour you plan to make your wrap in and share your progress.
Bye for now,
B x