Beginner Filet Crochet Chevron Pattern – Ripley
This post may contain affiliate links. This means I may earn a small commission if you make a purchase from these links, at no additional cost to yourself.
Looking for a stylish filet crochet chevron pattern?  Ripley is a rectangle filet crochet shawl pattern featuring a chevron detail.  Read on to find out more about the design and how to make your own Ripley.
Ripley filet crochet chevron inspiration
I don't know why Chevrons are called Ripples or vice versa but that naming intrigues me AND I like the regularity of the shape.  While working on the initial designs for It's a Wrap, had a moment of 'genius' and spent a day or so making charts for filet crochet shawl patterns.  I had pulled my shoulder a little and reached a blocked moment in my current project and this seemed like a good use of my time.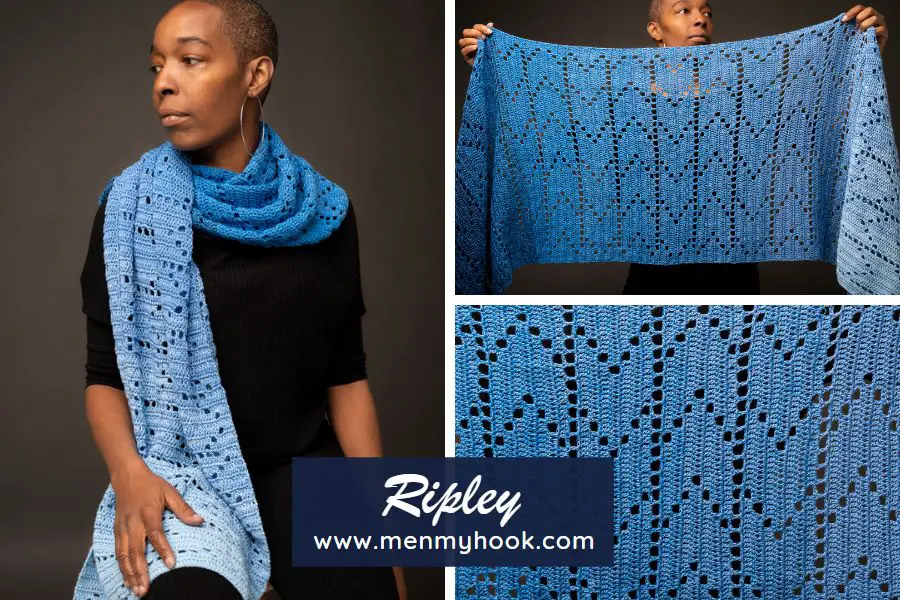 Ripley was one of the first designs that I created and then tweaked a few times to get the effect that I wanted.  I had also just sent out the survey to my kickstarter backers on how to name the designs in the book and this was the first one named because it immediately made sense to me.
All the designs in the book are named after characters in films that I enjoy and that are played by an actress I love.  Ripley comes from Sigourney Weaver's character in the Alien franchise.  As a younger me I loved this character because she seemed likely to be a really ballsy woman.  Strong, smart and unafraid.  
Easy filet crochet shawl yarn & materials 
To make my Ripley I used a 1250m 4ply gradient cake from Crochet UK in the colourway Southsea.  I love blues, and this specific colour was used not only by me, but by my testers in working on the designs in It's a Wrap.  I chose this colour for Ripley because it just reminds me of the Alien movies somehow.
To find out more about Crochet UK yarn and the different wraps available, check out the blog post here.
For alternative yarns to make your filet crochet chevron wrap, I would choose 3 x Twister Solid as a single colour alternative for this design as it is longer than a single regular cake and this would leave less waste yarn at the end.
Filet crochet shawl pattern info & tips
The Ripley filet crochet pattern is for a large rectangle wrap or shawl.  Worked with a short row start and a staggered repeat this is a little more challenging a design as it is not a mirror image.
Using only the regular or standard crochet stitches this design does work up quickly but requires your attention on every row.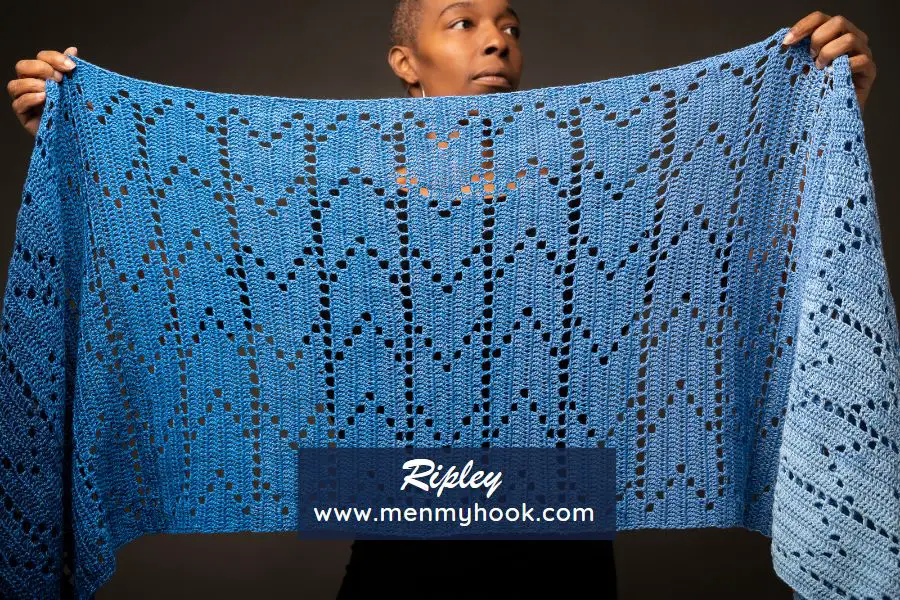 As usual with the majority of my shawl designs, gauge is not important, clean stitches and good definition are and this makes it a great option for alternative weight of yarn.  As this is already quite a large piece when finished, I would only use a dk or 3 weight yarn as a heavier or thicker alternative for this filet crochet shawl pattern.  
If you do decide to change yarn weight, adjust your hook size according to your own tension as normal.
Skill level: beginner, experienced
Terms: US 
Type: written and chart
Yarn: 1250m 4ply traditional gradient from Crochet UK, or 1250m of any fingering or 2 weight yarn
Hook: 4mm – or whatever is required to achieve gauge
Other materials: stitch markers, darning needle, scissors
Stitches used:
Get the Ripley Pattern
Ripley is exclusively available in It's a Wrap. Featuring 20 exclusive modern beginner crochet shawl patterns, you can find out all the details about It's a Wrap and the patterns included here.

To get your copy of It's a Wrap, hit the button below.
I hope you enjoyed the post and look forward to seeing your Ripley's!
Don't forget to pop into the Facebook Group and let me know what colour you plan to make your wrap in and share your progress, I would love to see your work.
Looking for more filet crochet pattern inspiration? Check out Reflections or Trinity
Bye for now,
B x